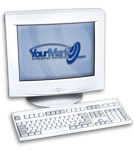 Your website is a reflection of your company so why settle for a thrown-together uninspiring web page? YourMark.com can deliver an original, professional and purpose-driven website that will not only be visually appealing to your customer but also incredibly easy to use.
While every project is unique, our overall process follows these five steps:
| | |
| --- | --- |
| | Web Strategy Consulting |

We discover the objectives of your web project. How do you measure success? What are your customers looking for from your website and what do you want it to accomplish? If you are starting from scratch we can find a domain name for your company and set up hosting and email.

| | |
| --- | --- |
| | Project Planning |

We ask the questions, establish expectations and reiterate our understanding of the project along with cost estimates and timeframe goals.

| | |
| --- | --- |
| | Development Phase |

We take your design preferences into consideration, examine the importance of branding and design your site for optimal usability.

| | |
| --- | --- |
| | Quality Assurance |

Before site launch, we conduct quality assurance both internally and with you, the client. We let you take the site for a test drive and make any final revisions that are needed.

| | |
| --- | --- |
| | Final: Launch! |

With the website having passed quality assurance, it's time to launch the site. If requested, we optimize the site for search engines and submit the pages for search engine listings.
The advantage of websites over printed material is that nothing is set in stone. Changes can always be made at any time after the site is launched. Since your business is always growing and changing, we will work with you to ensure that your website keeps up. Contact us for more information.