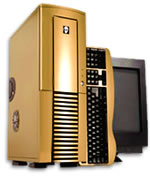 With our experience developing for the web, YourMark.com understands what your site requires to perform. That's why we provide affordable hosting solutions for your business needs. All clients are hosted on quality built Dell P4 servers or better and connected to the internet through multiple T3 lines. To ensure your site is protected, data backups are preformed daily.
View the Hosting Package Comparison Chart
* Please note that these packages are only available to individuals, families, non-profits or businesses that require limited server resources.